---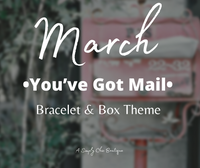 March You've Got Mail BOX
A Simply Chic Boutique
Regular price $52.00
in comments section, include SIZE you wear in t-shirts and bottoms…just in case a t-shirt or leggings/joggers/pants are included in box. 
No guarantee you will get anything you already have — but unlikely. Work hard to get fun and unique items for these boxes. 
Boxes will be shipped or ready for pickup/drop off by the 18th of March! Same day, we will release the next month theme!
ALL SALES ARE FINAL
ITEMS YOU WILL LOVE, but don't think about buying for yourself. 
t-shirts, bottoms, gifts, jewelry, accessories, home goods, beauty, snacks… you name it, we are making these boxes HAPPY BOXES!
boxes are worth anywhere from $75-$150